Changers Climate Coins can now also be exchanged for discounts from Blackroll, Vegan-Box , A*fine , Cosphera and Hanfland.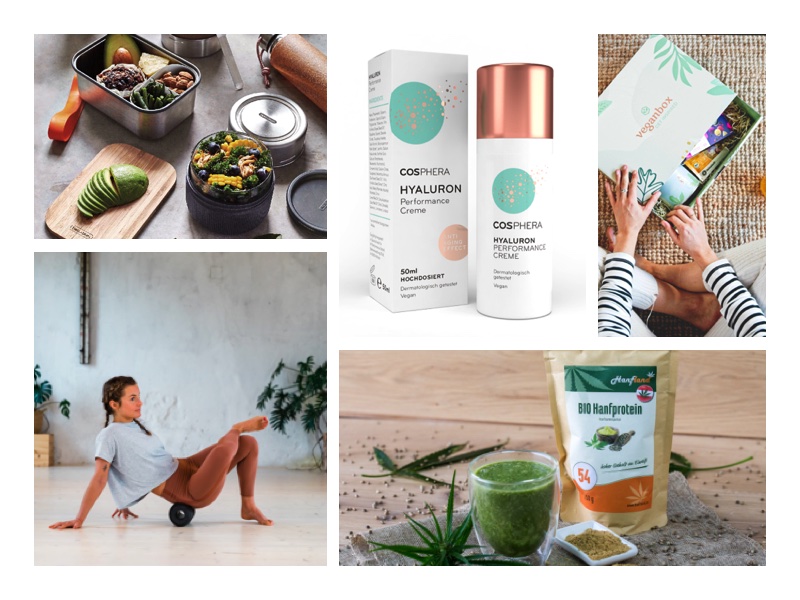 Hey Blackroll!
25% discount on the TWIN from Blackroll
TRAINING + RECOVERY = SUCCESS
At BLACKROLL®, you'll find a wide selection of products tailor-made to help you live a pain-free, healthy, high-performance life. Best of all, you can help yourself with them. For muscle relaxation in between and after sports. For a permanently better posture. For effective warm-ups and workouts. Even for a better sleep.
The procedure is always oriented to life: Attention is paid to circuits that enable or hinder an active, pain-free life and solutions are offered for this. For this purpose, the BLACKROLL® team works closely with scientists, doctors, therapists and athletes. This orientation towards life can also be seen in the production of BLACKROLL® products with harmless basic materials and processes.
From the beginning, BLACKROLL® has stood for innovation, empowerment, multi-functionality and inclusion. During manufacturing, care is taken to minimize the impact on the environment. Responsible production is consequently in focus to make the harmony of people and ecosystem sustainable. Change, ownership and innovation support BLACKROLL® in this regard as welcome and crucial drivers for a sustainable development of the company.
Hello Vegan Box!
25% discount on the HighlightBox Eco
Behind the company Vegan Box is a young, creative team with a shared vision – Vegan Box wants to inspire people with their carefully selected products to their own individual vegan lifestyle and raise awareness for sustainable and animal-friendly options. Experience and enjoy in a pleasant way how diverse, tasty and healthy the plant-based lifestyle can be.
The HighlightBox Eco surprises you with a wide variety of products that help you avoid plastic waste and consume more sustainably. In the box, you will find sustainable household items as well as ecological lifestyle products that offer a perfect alternative and that everyone can do something with.
Welcome A*Fine!
25% discount for the products of A*Fine
The online store, made for people who live consciously and enjoy:
A*Fine's extensive range offers stylish kitchen and to go products that are innovative, thoughtful and high quality in functionality and design, made from natural, recyclable materials.
Products that are ideal for everyday use, provide particularly long pleasure, are harmless to health and, above all, protect our environment.
Whether lunch boxes made of stainless steel, drinking bottles made of glass or kitchen utensils made of wood and stoneware – A*Fine offers products that make life easier and richer in the kitchen, at the table and on the road.
Hi COSPHERA!
25% discount on cosmetic products from COSPHERA
COSPHERA active ingredient cosmetics and nutritional supplements combine high-quality care with the principles of Clean Cosmetics: Innovative High Performance Cosmetics and Nutricosmetics for naturally healthy beauty from the outside and inside.
COSPHERA offers effective solutions for specific skin problems, combined with sustainable care. Nature meets Science – the best of science and Green Lab combined with the regenerative power of nature: concentrated active ingredient complexes and bioactive plant substances ensure radiant, healthy skin, vitality and well-being. The range includes premium beauty care and highly effective health & beauty supplements – developed by experts. The ingredients are carefully selected for purity, bioavailability, efficacy and skin compatibility – according to COSPHERA's Clean Beauty Care concept: non-toxic, without harmful chemicals such as parabens, SLS or phthalates, hormones, synthetic or petrochemical preservatives, additives, colorants or fragrances. Natural Beauty inside out. Vegan. Cruelty-free. Made in Germany.
Servus Hanfland!
20% discount on hemp protein 54% from Hanfland
Hanfland – Premium hemp from Austria
Since 2004 Hanfland grows food hemp in Lower Austria. Their home Hanfthal is mentioned in documents as early as 1149 – as the name suggests, hemp has always been a valuable commodity in their region. That's how they treat it today, too.
Only the best premium hemp goes into Hanfland's products – grown by predominantly Lower Austrian contract farmers.
Premium hemp means for Hanfland: – 100% organic from Austria – full flavor – highest production standards – processed in a natural way – short transport distances – grown and harvested with love by their Hanfland organic farmers from Austria.
We are very happy about our new marketplace partners! So pedal hard and reward yourself in the marketplace.