Published July 9, 2020
How it works! | Changers
Saving CO2, doing good for yourself, for others and for the environment. Have fun, be informed and motivated, and also work measurably on common goals. This is the idea of ​​our CO2 fit app.
Climate change is such a big problem that many unfortunately believe that everyday behaviour has no impact on the climate. That is wrong. Everything we do causes CO2 emissions. What we eat, how we get around and what we buy. So we have the opportunity to make a difference every day if we know these effects. But that shouldn't be based on doing without, but should be fun.
That is why we reward activities that avoid CO2 and usually make you even healthier with bonus points. For every kilometer you cover on foot or by bike, you get a bonus point that we call ReCoin. If you use public transport such as buses and trains in your city, you will receive a bonus point every 5 kilometers. Perhaps that motivates you to get off a station earlier and take a short walk after your work, because there is already a coin for every kilometer for running.
Here you can see an overview of the CO2 ratings and bonus allocation by type of mobility in the app. The savings are green and the emissions are red.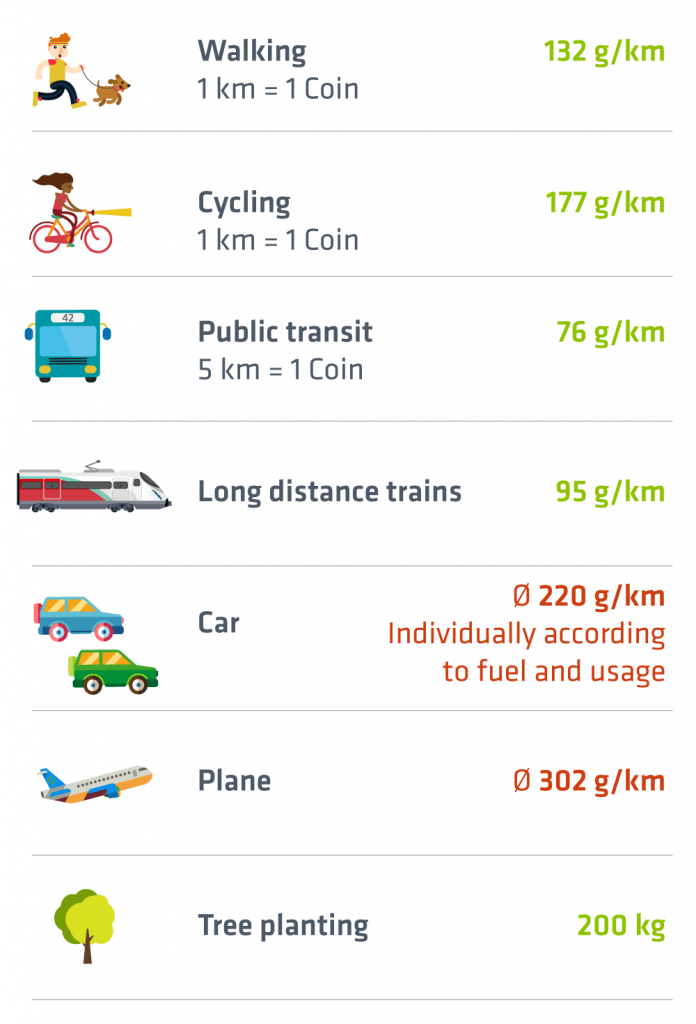 Of course, you can also earn coins by participating in health and climate protection measures. You can find them in 5 categories, which you can reach via the HOME screen by clicking on the respective icon. Just try what is right for you. Perhaps you will learn a few movements in our work-out videos that will help you stay flexible while traveling and sitting for long periods. Or you can find suggestions on how to be more careful with yourself, others and nature.
How we calculate the CO2 impact.
We calculate the CO2 balance for each type of mobility and distance traveled. For this we use the CO2 data from Ecoinvent and from the Federal Environment Agency. Ecoinvent was founded over 20 years ago as a not-for-profit company from various research institutions of the Swiss Federal Institute of Technology Zurich and currently has the most extensive data collection for the calculation of CO2 balances. We also worked with the ADAC for the individual car settings that everyone can make themselves in the app. Emissions are determined based on your car type and its individual consumption. In addition, you can enter your participation in carpooling and thus significantly improve your personal CO2 balance for all car journeys. You can find these vehicle setting options in the app under the menu item "MORE".
The method for calculating CO2 emissions is called "Tank To Wheel" (TTW) and "Well To Tank" (WTT). We use it to calculate the CO2 emissions of diesel and petrol during combustion and during transport from the source to your tank.
Savings through sustainable driving and green mobility
CO2 savings arise when you are not using the car. When you walk, ride a bike, or switch to public transportation. From the idea, you save with every kilometer of running and cycling the CO2 emissions of a kilometer traveled by car. However, not all routes can replace car journeys. This includes the distances traveled at home, in the office or during sports. Through our own data evaluations and surveys, we have found that this includes about 40% of the routes taken by foot and 20% of the routes covered by bike. To solve this problem, we leave the route length in the account of the users, but reduce their CO2 savings by 40% when running and by 20% for bicycle rides. In this way, we achieve a correct CO2 balance overall. If the values ​​we assume change, we will adjust them accordingly.
Other CO2 measures.
Mobility is an important but not the only way for us to save CO2. In our health and environmental measures, you will find other activities in the areas of energy consumption, resources, conscious shopping and nutrition that will help you make conscious decisions against climate change on a daily basis, improve your CO2 balance and of course earn coins.
Your city or organization can expand and adapt these measures to your circumstances. The CO2 calculations of these measures are based on various publicly available data sources from the Federal Environment Agency, Ifeu institut, Ecoinvent, Öko-Institut, CO2-Online, MyClimate, Atmosfair, Pendos-Meter and others.
Plant trees, save CO2.
A significant proportion of the CO2 savings result from tree planting with the organizers of your challenges, i.e. the cities and companies. We combine the participation performance, either running and cycling in kilometers or saving CO2 in kilograms, with triggering a tree planting. We work together with various planting partners such as Iplantatree.org or Plant-for-the-planet.org. Forestry offices or other regional partners are also very much welcome when it comes to real world tree planting.
Why do we plant trees?
Trees are a natural way of storing CO2. They breathe in CO2 from the air, bind the carbon in their cells and exhale the oxygen that is vital for us. Trees also provide shade and offer a habitat for many animal and plant species. They are important for healthy biodiversity. With their roots, they protect the soil from erosion, keep the water balance in balance, clean and cool the air and are a recreation area that should not be underestimated for us humans.
How do we calculate the CO2 savings
According to forest experts, the ability of a tree to bind CO2 is calculated according to the type of tree, the age of the tree, its wood density and external factors such as climate, soil quality or water supply. Unfortunately, not all planted trees survive. With our trees-CO2 balance, we follow a recommendation from Plant-for-the-Planet that 5 trees are required to bind 1 ton of CO2. This is significantly less than stated by most institutes and tree growers, but fits perfectly with our understanding of carbon dioxide compensation.
We book the 200 kg CO2 savings in your account on the day of your tree planting. In addition, your tree planting counter receives another tree in the home screen, which we will not take from you for life. So you can track your annual CO2 balance on the one hand and see your own small forest grow on the other.
How does the route recording work?
In this video tutorial you will learn what possibilities there are to record routes in the Changers CO2 Fit app.
Changers has developed a variety of ways to capture your routes as comfortably as possible. The easiest way is to activate Apple Health or Google Fit for your steps and the distances you walk.
For all other routes, it is best to use our automatic route recording. Here you can choose between two options. "Capture cycling and all motorized mobility types" or you select "Capture only motorized routes without cycling". We make this distinction because there are users who measure bike rides with a fitness tracker such as a Garmin watch or with an app such as Strava and would like to continue doing so, but based on the CO2 balance by driving by car or bus and do not want to do without rail. These users simply activate the fully automatic recording of the "motorized routes".
Please note that the display of the values ​​of automatically recorded routes can take a few hours. On the one hand, we have no influence on when Apple Health, Google Fit, wearables and apps from third-party providers send us the data, and on the other hand, we want to operate the app as "battery saving" as possible, which means as few active requests to the server as possible.
Of course, you can also run and cycle manually using GPS tracking, as you might know from apps like Runtastic or Runkeeper. To do this, you have to deactivate the automatic recording under "MORE" and click on one of the mobility icons (bus, running, bike) on the home screen to start the measurement. To stop, click on "Stop".
If you have activated the automatic route recording, we will show you a list of all the routes you have covered by clicking on one of the mobility icons mentioned in the HOME screen. You can also filter this list by activity type by clicking on "Filter" in the top right corner. It is your activity "diary".
How accurate is the automatic route recording?
Depending on the environment, age and type of your smartphone and the type of mobility recorded, we are around 90% accurate. This applies in particular to the distinction between closely related types of mobility such as car, bus and train. For us, the advantages of automatic and therefore convenient recording also justify minor inaccuracies.
Receive "Undefined journeys".
You can also activate the display of the "Undefined journeys". To do this, first activate the automatic route recording and then indicate in the selection box below that you want all of the routes recorded by us to be displayed before data transfer. Please note that this also means that if you forget to confirm it, we will not include your routes in the ratings. As soon as you have ticked this box, the symbol of a blindfolded boy on the top right of the home screen signals that new "undefined routes" need your attention.
Can I delete routes again?
This is currently only possible if you have activated the automatic route recording and you confirm or change the "Undefined journeys" before transferring them to the ratings. Here you will also find the option to delete a journey that has not yet been confirmed. If manually entered too many routes, you would have to suspend recording until your total routes are correct again.
Can I manually record routes in the app?
As soon as you deactivate the automatic route recording, we switch on the input mask "Manual input" for motorized mobility types in the HOME screen. In this you can manually enter all routes by public transport, car and plane.
As soon as you reactivate the fully automatic route recording, this input box disappears to avoid double entries. Please note that the Changers automatic route registration sometimes takes a few hours to show you your routes in the app. It may also be the case that we have not recorded a journey you have made as a coherent route, but in parts. So please be patient.
Can I record routes without the Changers CO2 Fit app?
All registered companies receive a Changers CO2 fit Challenge page, on which all participants can register – even without a smartphone – and enter the distances traveled manually. All information on activities in the areas of nutrition, sport, medical checkups and sustainability is also available here. In addition, users receive information about the competitions, the carbon footprint, donation projects and tree planting. ReCoin's own bonus points can also be exchanged for raffles or vouchers on a premium marketplace.
What is a challenge?
We call a challenge a fixed period in which you compete with others on your own or in a team. The organizer of your challenge determines what counts in this competition.
Changers offers two options for this, which sometimes change from challenge to challenge. There are running and / or cycling challenges. Your kilometers traveled on foot and / or by bike are measured and evaluated in the rankings.
Then we have the CO2 challenges. Either only the CO2 savings can count or your organizers can decide that CO2 emissions from car trips and flights also count in the rankings. While the former Challenge, for the kilometers traveled, is more motivated by sport, the CO2 Challenge integrates a larger circle of participants, because now it is also important, for example, to switch from car to public transport, eat vegetarian food or maybe your old age – Return cell phone to the economic cycle. All of these are measures that, like running and cycling, help to avoid CO2.
Soon (autumn 2020) we will also offer the opportunity to carry out the challenges based on earned bonus points. Then each of your participations in all measures can bring you forward in the ranking.
What do I do if something doesn't work?
Please check first whether all settings and releases have been made so that the Changers app can and may record the desired routes at all. In Apple iOS, for example, we need "Apple Health Running" activated to take over your steps and routes. In addition, for automatic route recording, the release of the 'Location Services' must be set to "always allow" in the setting of your phone.
Please also watch the following videos:
Record routes in the Changers CO2 Fit app.
Android troubleshooting: Share locations.
Problem-solving in Android.
Apple iOS: Share locations
The app also takes some time to load or update the required data. So please wait up to a day before you do anything. If you change the tracking settings 10 times in a row, this does not help and only causes confusion.
First aid for apps works like on a PC. Close and open the app. Before doing so, please also check in the respective app store whether you have loaded the latest version of the Changers CO2 Fit app. You can find the version number in the Changers CO2 Fit app under "MORE". With the update you can directly overwrite the old app version or uninstall the existing app beforehand. Please log in again after uninstalling. Your data is stored centrally. Your routes are not lost.
How does the daily steps goal work.
Climate change and CO2 savings are only one side of the coin, more exercise and a healthier life is the other. So just be motivated to walk more, take the staircase instead of the elevator, take the first parking space with your car, even if it's 10 minutes away from the office. Perhaps you get off the train one station earlier in the evening and walk home. And whether you hit 10,000 steps or just 5,000, it is important that you do it regularly. Incidentally, the 10,000 steps are one of the few useful inventions from the advertising of a Japanese pedometer from 1965 with the name "Manpo-kei", which means something like "10,000 steps counter".
In our app you can set your steps goal yourself in such a way that it is neither under or overwhelmed. Just start with 6,000 steps and try to achieve them every day for a week. The app helps you do this. It colors the circles and bars of the day on which you reached your goal. The first day red, the second orange, the third yellow and so on until after a week all bars give a rainbow. If you fail to achieve your goal one day, the bar turns blue again and the next goal reached begins again with the color red.
At the top left of the steps counter you will find a setting gear. Activate it and you will come to the steps Goal settings. We offer you 4 quick settings and a link for further individual entries. So you can define the challenge that suits you best.
The Challenge website.
Almost all functions of the app can also be accessed via a website. There you can also participate without a smartphone, buy offers in the marketplace with coins, enter routes manually and view the many other measures on your PC. This can be particularly useful for workout videos if you want to watch them on a larger screen.
We enter routes in kilometers in the Challenge Page. If you use one of the few incompatible steps counters, remember not to enter the steps, but to multiply them by 0.7 meters per step and then to enter them as kilometers. Unfortunately, we can no longer change incorrectly entered routes.
If you do not know the individual URL under which you can call this Challenge Page in the browser, please ask your Challenge Organizer. In the Challenge Page you can log in with the same login data as in the app. Please note that not all organizations unlock the Challenge Page for the participants.
What else you should know.
We can only evaluate the data that your smartphone provides us. So keep your operating system up to date. There are over 6,000 different Android smartphones with different operating systems. We do our best to offer a solution for all of these. However, we only support smartphones from Android 6.0 and Apple Phones from iPhone 5s.
You want to delete your account.
Changers does not market data. Our business model is the licensing of our software to companies and cities. We don't care where you go and how fast you run or cycle. It is only important to us that you do it, that you start doing something about climate change every day. We process and host all data according to GDPR in Germany. However, if you still want to delete your account, you can do it yourself in the app. You don't need us for that. Please note that we cannot restore your account after deletion. To delete go to the menu item "MORE", select your profile, scroll down and press "Delete account".

Like what you read? Share it