Sustainability pays off, and not just for future generations. Studies clearly show that companies which act sustainably are also more successful. They have competitive advantages in the market and in recruitment, and also have up to 6% higher profit margins than conventional companies.
Changers is designed to support your company in your sustainable transformation process to become a health-conscious and climate-neutral company. With the Changers CO2 Fit app, we have developed a form of gamification, which allows every employee to generate a digital currency from personal CO2 savings and saved costs, which can be traded in common tree planting, donation projects or in coupons and raffles.
From knowledge transfer to conscious action.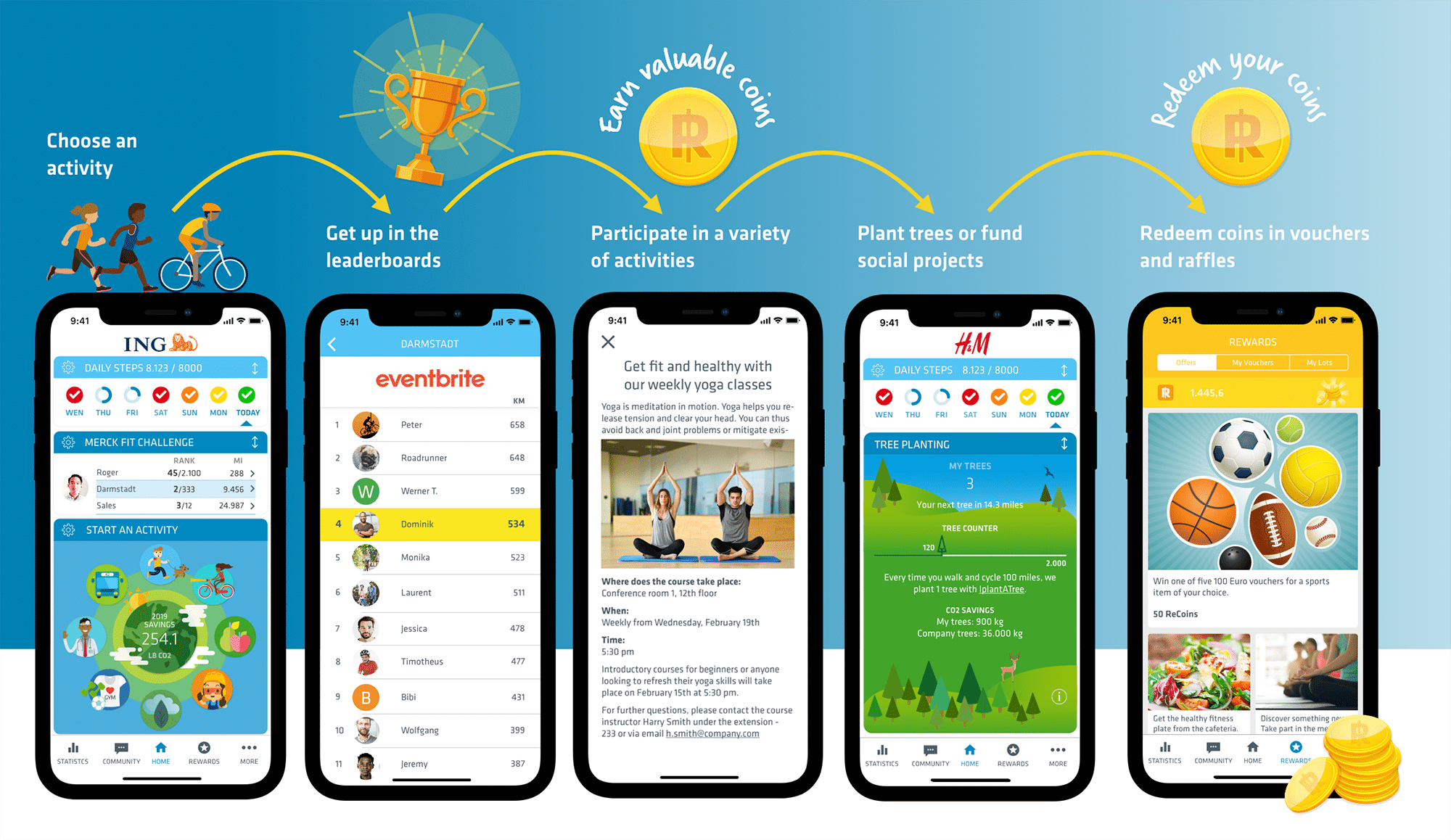 The Changers CO2 Fit app measures the distances covered by the employees, distinguishes between the different types of mobility and calculates the CO2 balances. You earn coins by walking, cycling or using public transport and thus saving CO2. In addition, one's own climate balance and that of the team can be improved by participating in tree plantings, climate protection measures or by exchanging coins into Gold Standard CO2 certificates.
In the app, further measures in the areas of sports, medical check-ups, occupational safety, mindfulness, environmental protection and nutrition are waiting for your employees. In simple playful measures it packs compact knowledge about one's own health and climate protection.
Companies can add and customize their own measures via an easy-to-use content management system. This is how your own texts, pictures, and videos become part of your CO2 Fit app. Each measure can also be given their own carbon footprint and how many coins can be earned for each entry.
On a rewards' marketplace, the CO2 coins can be exchanged into offers 
… of the employer (fitness plate in the canteen, bicycle accessories, etc),
… the city administration (access to theatre, museum, swimming pool etc)
… from local dealers (discounts on products and services)
or or or
You can use Changers in your city, your company or also within your marketing campaigns. The CO2 fit app can be adapted to your brand, and you get full administration access. For healthier and more committed employees and the joint achievement of CO2 savings targets.
"Mission green accomplished"
Your Changers Team