Update: Münster residents saved 80,000 kg of CO2:
DB AG sponsors bicycle service station
How it started.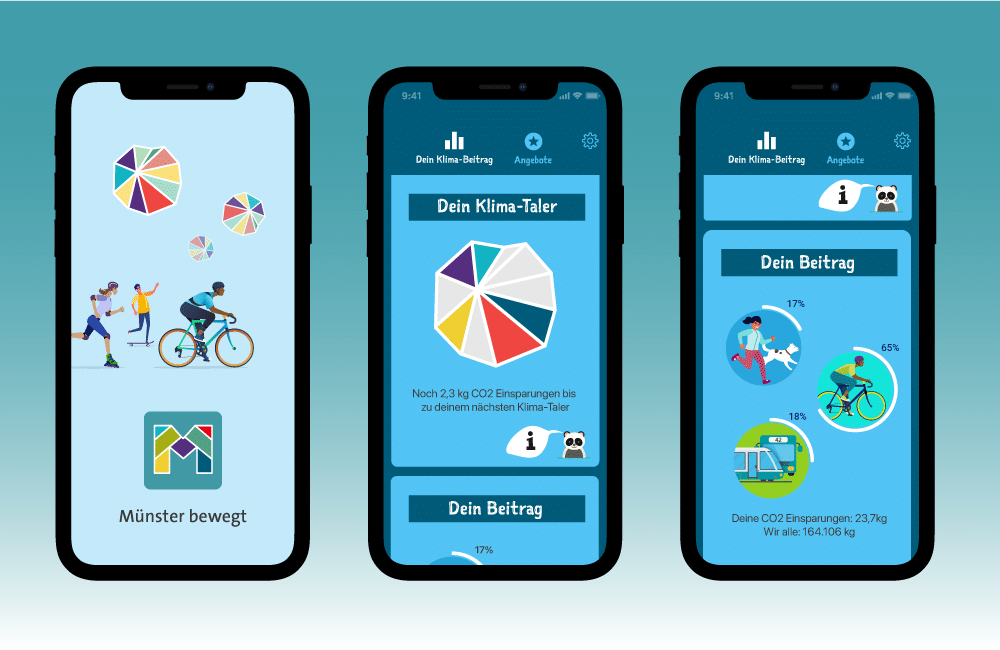 On October 12th, the project "Münster moves" by the two startups MOTIONTAG and Changers started. In friendly cooperation with Deutsche Bahn AG, the free app "Münster moves" is rewarded for environmentally friendly mobility.
Since the middle of October, the personal CO2 footprint can be made visible with the help of the "Münster moves" app. "Münster moves" challenges the people of Münster to question their usual means of transport. The app tells users how many CO2 emissions are generated when driving in their own car, by bus, train, taxi or bike. The change to more sustainable alternatives is rewarded: the more environmentally friendly means of transport are used, the more climate thalers users collect. These can be redeemed for rewards at participating partners in Münsterland. You can find an overview of all partners at münster-bewegt.de and in the app.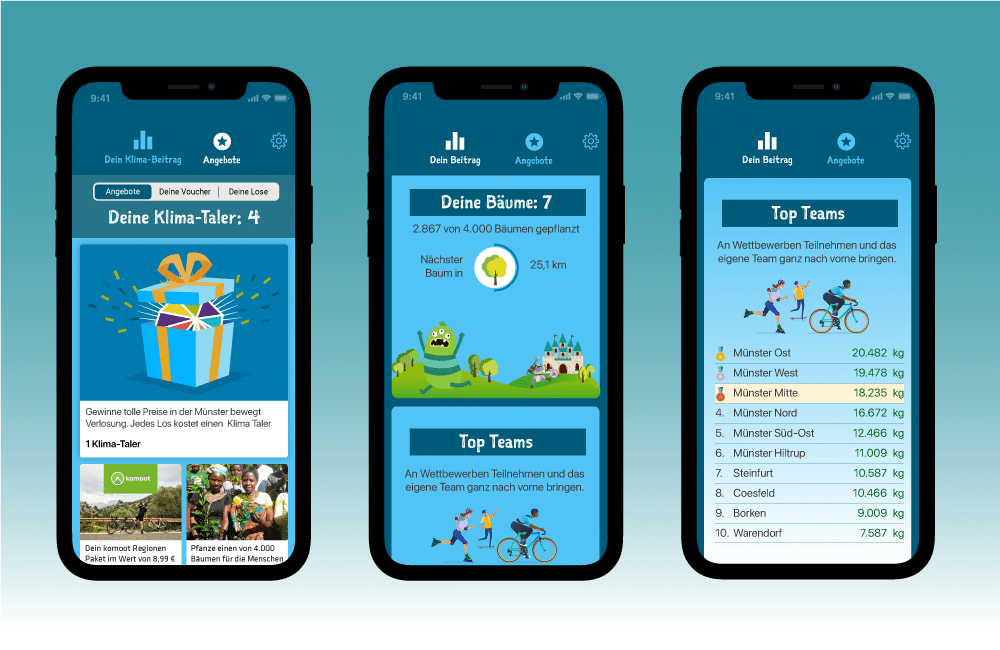 Since the start of the project, all participants have already covered almost 1,400,000 km. Of this around 117,000 km on foot, 200,000 km by bike and 280,000 km by public transport such as bus and train. Sustainable mobility alone has saved over 80,000 kg of CO2.
To honour the efforts of the Münsterlanders to achieve the CO2 milestone, Deutsche Bahn AG is now sponsoring the first bicycle service station. "As a partner of the challenge, we want to get even more commuters excited about sustainable mobility. Those who travel by train, public transport and bicycle save emissions and protect the environment, "adds Michael Jansen, DB AG station manager for the Münster area, and announces:" At the Münster Zentrum Nord station, all cyclists now benefit from one Bicycle service station. In coordination with the Office for Mobility and Civil Engineering, further bicycle service stations are to be installed in the city area in the spring – provided that the Münster residents continue to rely on sustainable mobility with Münster moves.
How it works.
Citizens collect climate coins. 5 kg of CO2 saved by running, riding a bike and using public transport generates a climate coin in the app.
Climate-Taler can be redeemed against discount vouchers from partners.
For each CO2 milestone, MOTIONTAG and Changers, together with DB AG and city partners, provide a bicycle service station.
In addition, 4,000 trees are planted and four wells are being built by the partner Wells for Zoë in Malawi.
Why is there Münster bewegt App?
For the sake of the environment.
Together, CO2 emissions in Münsterland are to be reduced and environmentally friendly mobility continues to grow.
For information and mobilization
Münster moves should disseminate knowledge about environmentally friendly mobility and reward people from the region in a sustainable manner.
For local partners
With support from Münster moves, companies can draw attention to themselves and position themselves positively on the topic of green mobility and against climate change. Further information on the partners at muenster-bewegt.de.
Background and contact
The project is carried out by the companies MOTIONTAG and Changers in friendly cooperation with Deutschen Bahn AG. Münster bewegt app started on October 12th, 2020 in Münsterland. All Münster residents are invited to download the app and save CO2 together through climate-friendly mobility.
Information material and download
Project website: https://www.muenster-bewegt.de/
Video: https://www.youtube.com/watch?v=SFQWI3NiCbU
iOS App: https://apps.apple.com/de/app/m%C3%BCnster-bewegt/id1530399120
Android App: https://play.google.com/store/apps/details?id=com.blacksquared.sdkapp.muenster
Facebook: https://www.facebook.com/MuensterBewegt