Get inspiration for a more sustainable and conscious lifestyle in 2021
At Changers, participants earn valuable bonus points that can be exchanged in the app for tree planting, donation projects, vouchers and in exciting raffles.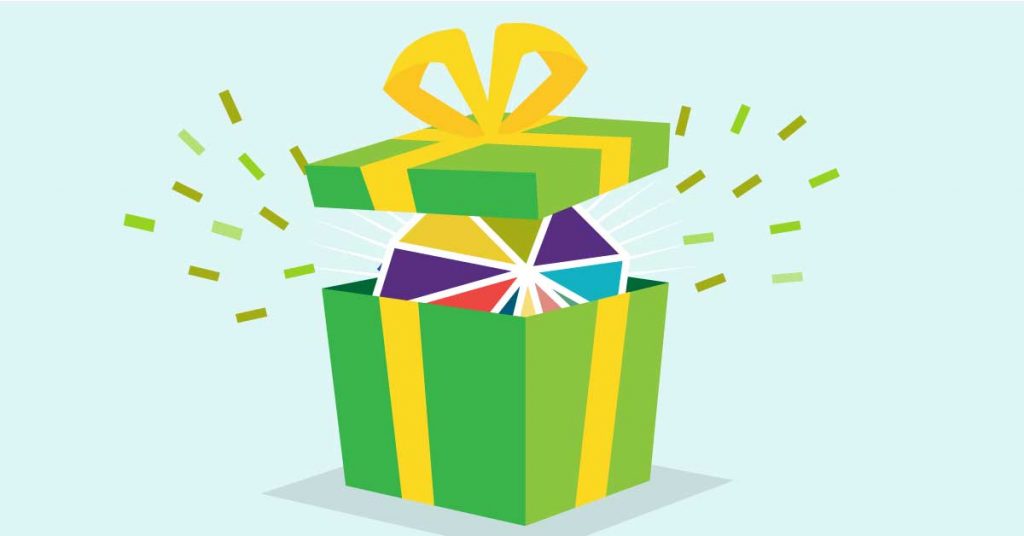 Our customers can set the premiums themselves. This can be admission to the museum, theater, swimming pool or the discounted monthly ticket. We Changers also introduce you to companies and products that make your life greener, more sustainable and healthier.
In the following you will get to know our latest climate partners, whose discount offers are now available to all participants in the app. Get off to a good start in 2021 and get the sustainable rewards from our new partners now.
1. Hello Spoontainable!

20% discount voucher for your plastic-free spoontainable ice cream enjoyment in the Changers marketplace.
We love ice cream! But what we love even more is to eat our ice cream with one of the sustainable, recyclable and edible spoontainables. We are therefore very happy to offer you a Spoonntainable Voucher in the Changers marketplace with which you can indulge your ice cream enjoyment without a guilty conscience. Because first you have to cycle and run 50 km to earn the bonus points you need for the voucher. But then you've really earned your ice cream and spoons. 😉
Spoontainable produces the first edible dessert spoons from by-products from the food industry. They upcycle residues and fight against the plastic problem as well as against food waste.
Spoontainable stands for sustainability across the board. That means they implement sustainability in the entire supply chain.
Starting with resource procurement, production, recruiting and sales. A permanent and long-term way of procuring resources in order to act considerately on an ecological, economic and social level and to achieve a positive effect. Let's spoon the world a bit nicer together!
Don't wast it – taste it!
You want to know more about Spoontainable? Check out their social media channels: Facebook, Instagram, Pinterest, Linkedin.
2. And Soy

Get your free bamboo plate set and make your own plant milk at home
We prefer to drink our cappuccino with oat milk, the only thing we don't find, so cool are the many tetra packs that we have to throw away. Our new marketplace partner has a great solution to the problem! With the AND SOY cooking mixer, you can easily make your favourite plant drinks yourself!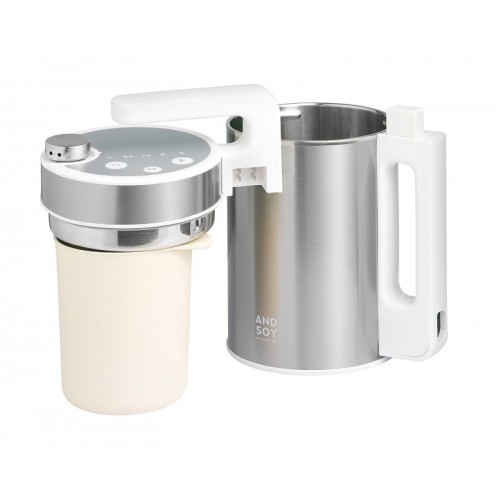 Not only plant drinks made from grain, beans and nuts, such as soy, rice or almond drinks, can be made quickly and easily in just a few steps. The mixer is also a great kitchen aid for other dishes such as porridge, congee, baby food, soups, stews, compotes and smoothies.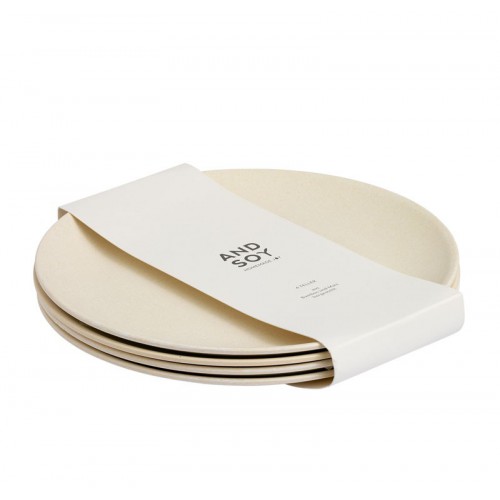 With our voucher you get a bamboo plate set worth € 18 for free with every AND SOY cooker mixer. The plates are dishwasher safe, BPA free, 100% food safe and can be disposed of in organic waste as soon as they are no longer needed.
You want to know more about AND SOY? Check out their social media channels: Facebook, Instagram.
3. Hello Sauberkasten!

20% voucher for Sauberkasten. Make your own cleaning products.
Juhu, we can now offer you a voucher for Sauberkasten. This way it is not only clean but green at home!
Who knows what's in all of the finished cleaning products? Collective terms and chemical terms often hide harmful ingredients that are harmful to our health and the environment. The Sauberkasten vision is to ban these useless substances from the household.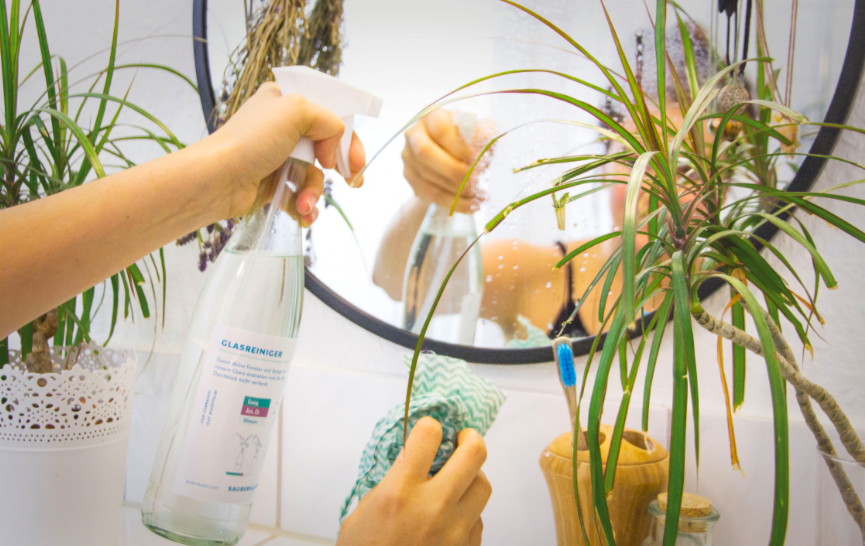 Their alternative: simply make effective detergents and cleaning agents yourself from environmentally friendly ingredients. With the Sauberkasten, they offer everyone who wants to make their everyday life more sustainable or who is interested in discovering something new a practical helper at their side.
The Sauberkasten is a set that you can use to make detergents and cleaning agents yourself.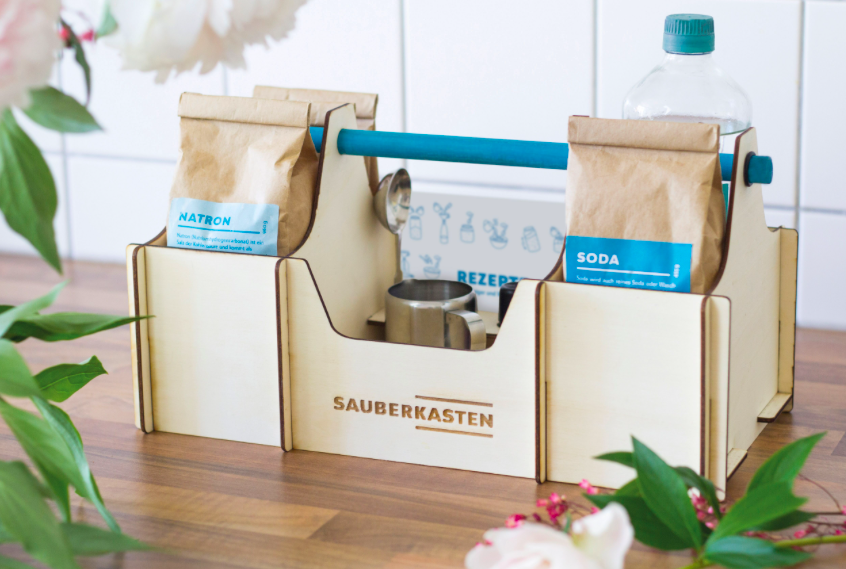 You can make ten different cleaners from six ingredients. A practical recipe overview with suitable measuring equipment will help you. You also get labels for your finished detergents.
The Sauberkasten helps you to clean your entire household in an environmentally friendly, health-friendly, vegan and palm oil-free way and also avoid a lot of garbage.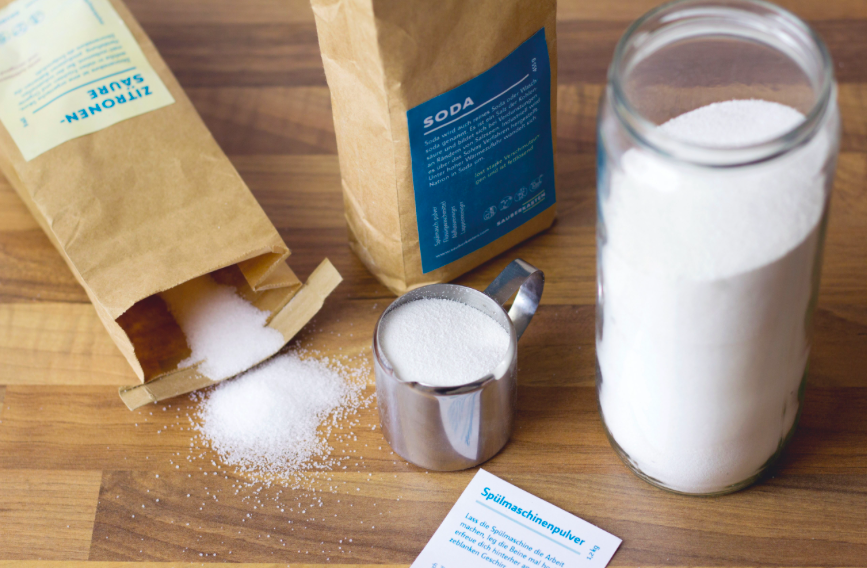 By making it yourself, you know exactly what is in your cleaning products. So you keep control of all ingredients and you can decide for yourself how to keep your household clean.
Making cleaner yourself is child's play with the Sauberkasten. With your cleaners you will not only clean everything sparkling clean as usual, but you will also clean.
Check out their social media channels: Facebook, Instagram.
4. Hey soulbottles!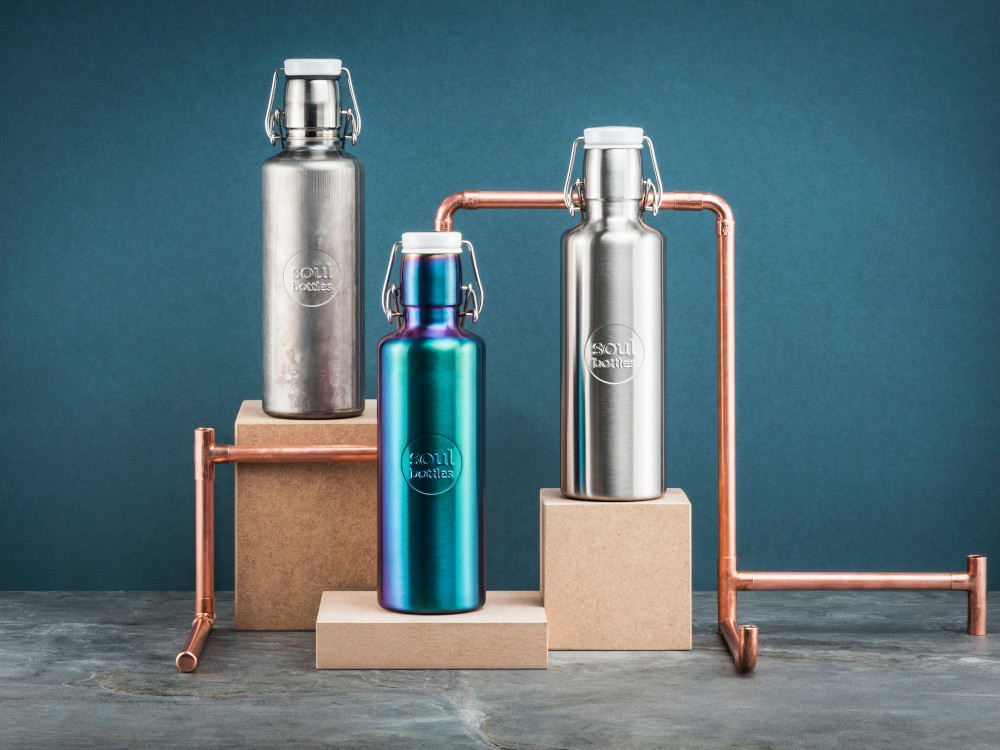 20% discount for your personal soulbottle.
"Have I had enough to drink today?" With your new drinking bottle from soulbottles you won't ask yourself that anymore, because drinking is fun with it! We are happy to offer you a 20% voucher for 50 ReCoins for the beautiful and sustainable drinking bottles from soulbottles.
soulbottles makes probably the cleanest drinking bottles in the world! Produced in a fair, sustainable and climate-neutral way, your bottles made of glass and stainless steel are the perfect companions for every day.
Printed or engraved with motifs by international artists, the soulbottle helps to save plastic every day and, at the same time, to make the world a little fairer.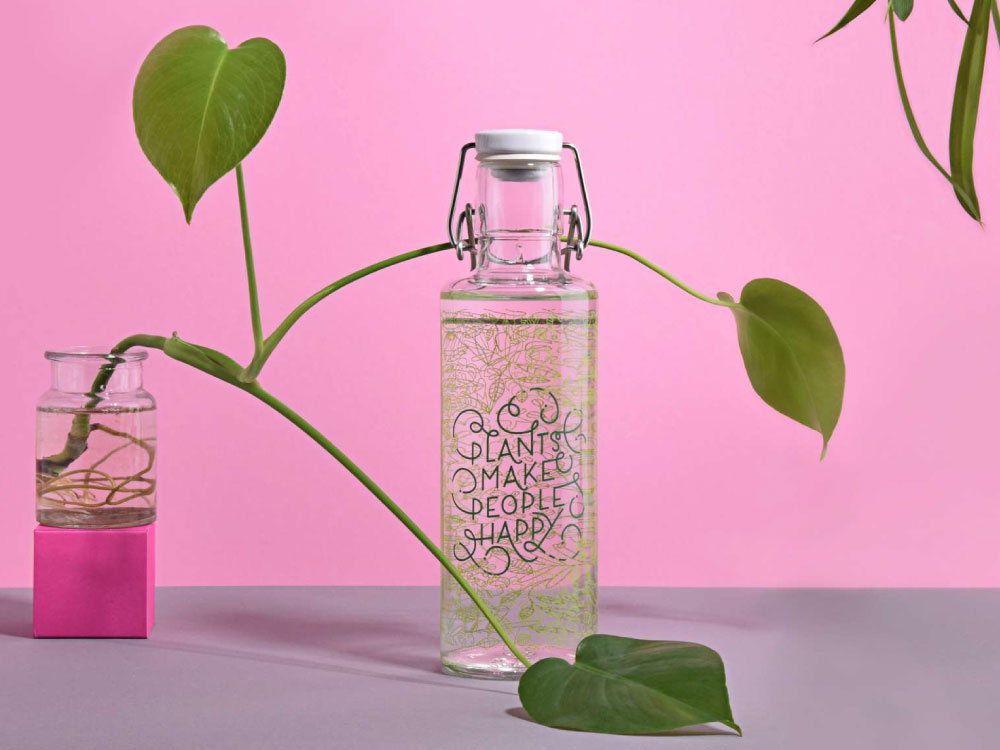 As a company in the economy of the common good and certified B Corp, soulbottles stand for an economy that helps people and the planet. For every soulbottle sold, € 1 goes to Viva con Agua. With one million euros in support, they have already given almost 80,000 people access to drinking water, hygiene and sanitary facilities.
Feel free to check out their social media channels: Facebook , Instagram.
5. Welcome PAPERO!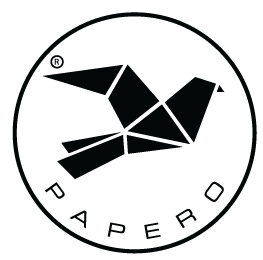 20% voucher for the sustainable and stylish backpacks from PAPERO
Nothing beats a stylish product that is vegan and sustainable! Our marketplace partner PAPERO offers you exactly that!
The robust PAPERO backpacks are made of washable paper and look like a leather look, but are vegan and washable. Even rain doesn't bother the backpack, the contents stay dry.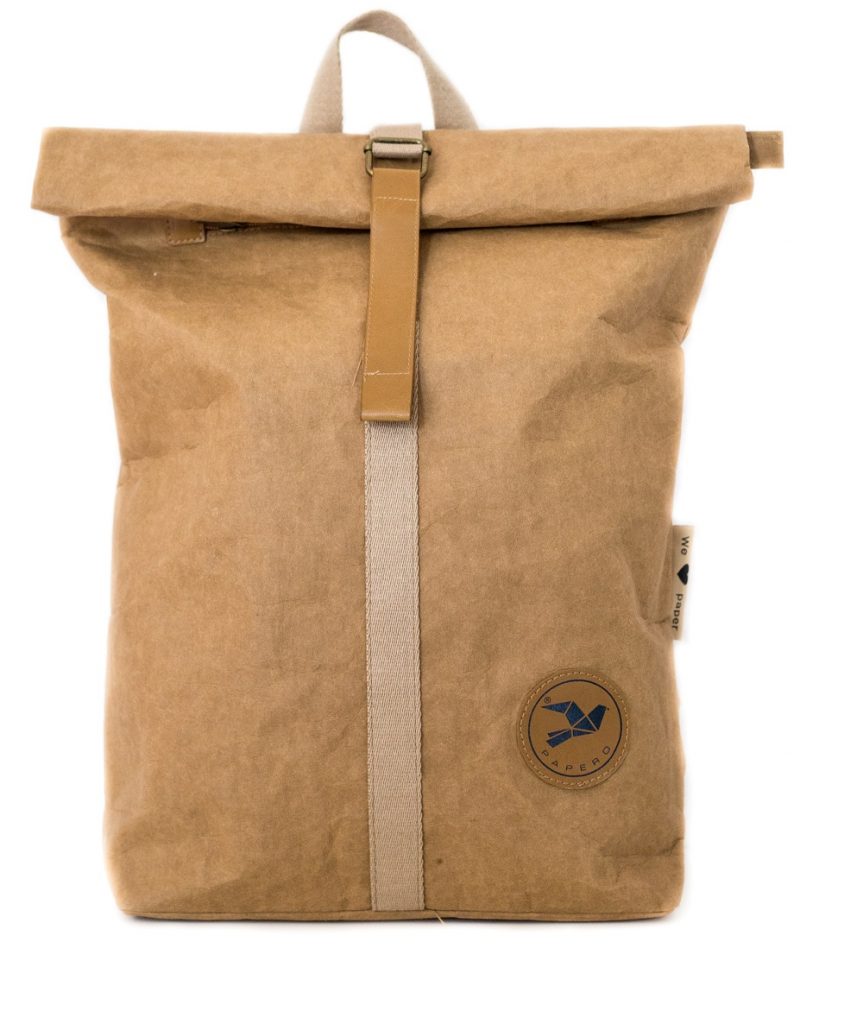 The material for the bags from PAPERO consists of 98% cellulose and 2% latex pulp, which is FSC® certified and is made from renewable raw materials in Germany. For this purpose, PAPERO donates part of every bag sold to the non-profit association Primaklima e. V. for reforestation projects.
If you want to know more about PAPERO take a look at their social media channels: Facebook, Instagram.
6. Namaste Southern Shores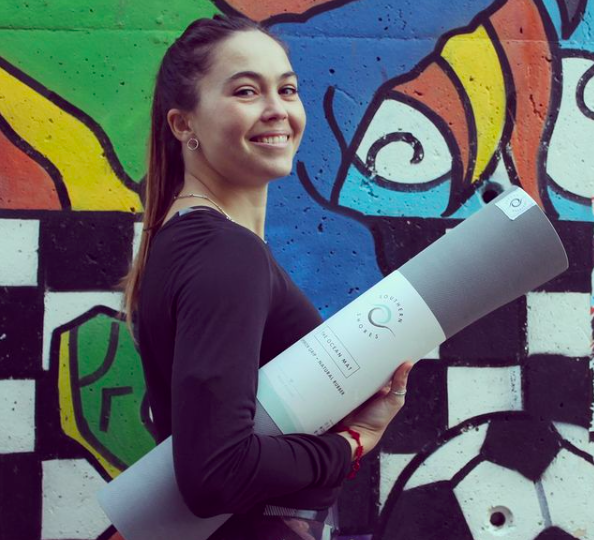 15% discount for green yoga products from Southern Shores
We are happy to offer all yogis among you a voucher for the environmentally friendly products of Southern Shores. Southern Shores combines sustainability with yoga.
To do this, they develop sustainable yoga products, such as the Ocean Mat. This cool yoga mat is made from sustainable and FSC-certified natural rubber, recycled natural rubber and recycled plastic bottles. Not only does it help you relax, it also saves the oceans from plastic waste. In addition, the Southern Shores team runs beach cleanups every week, where they have collected over 2 tons of trash since 2019. All of this with the support of great yogis and non-yogis.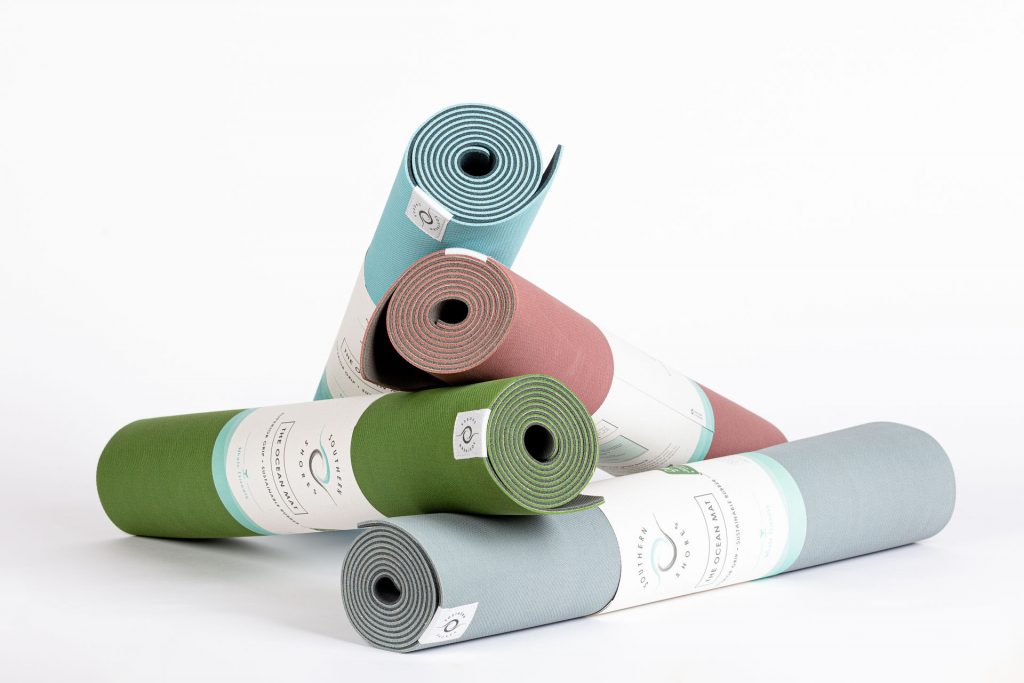 In addition, 1% of every purchase supports the worldwide protection of whales and dolphins. To this end, Southern Shores works closely with the organization "Whale and Dolphin Conservation".
If you want to know more about Southern Shores check out their social media channels: Facebook, Instagram
7. Welcome panakeea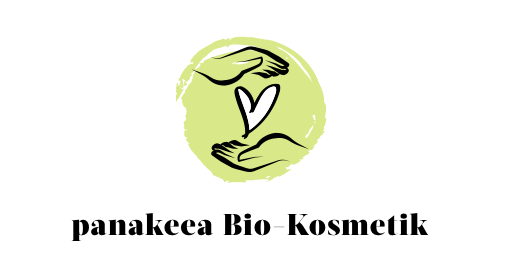 20% voucher for organic cosmetics from panakeea
Mhh the feeling of soft and well-groomed skin is indescribable! We want that of course with organic cosmetics without animal suffering and without unnecessary ingredients. It's very easy with our marketplace partner panakeea.
panakeea is certified organic cosmetics from Germany and a small, young family startup.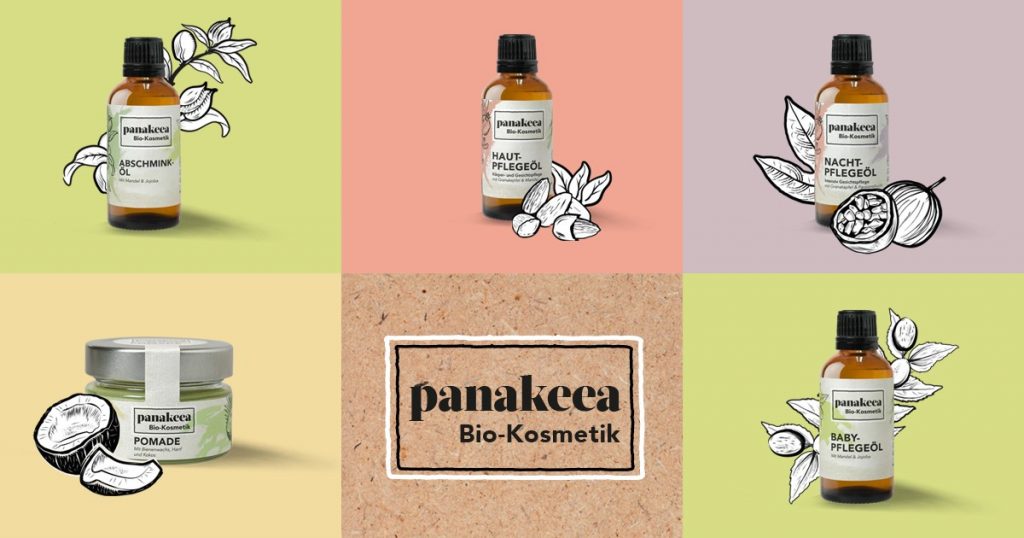 panakeea produces as regionally as possible and exclusively with natural ingredients. The sustainable organic cosmetics brand also pays attention to environmentally friendly packaging and the lowest possible CO₂ balance. Thanks to the extraordinarily high organic content, every product is guaranteed to be 99 percent organic and 100 percent natural.
All products are certified with Ecocert Cosmos Organic, as well as PETA Cruelty Free. Almost all products are vegan and carry the seal of The Vegan Society. The range of the young brand includes a make-up removal oil (cleanser), a general skin care oil, a night care oil (facial care), a pomade and a baby care oil.
All products are regional and sustainable, dermatologically tested, effective and fragrant.
8. Buongiorno WAYCAP!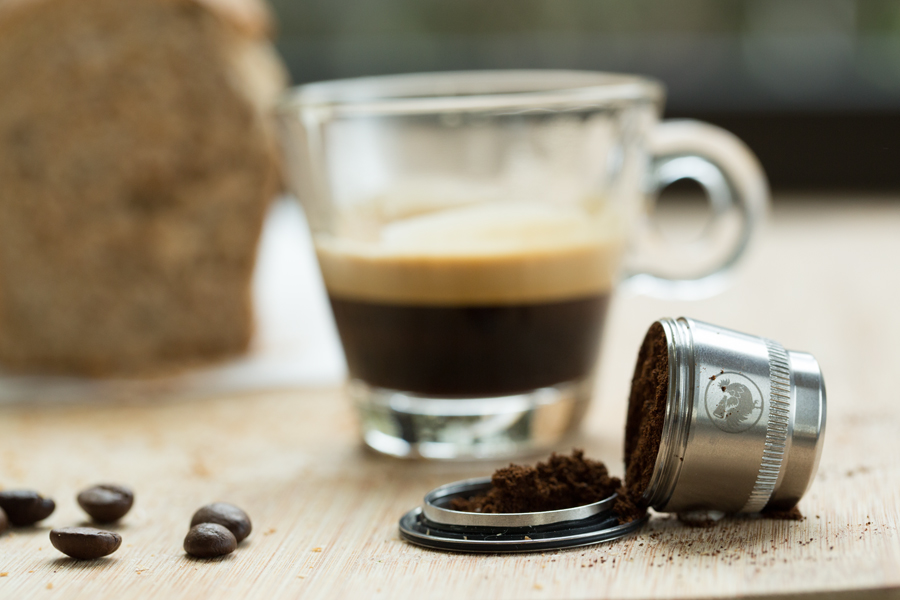 Get your 20% voucher for the refillable coffee capsules from WAYCAP
We are very happy to welcome the Italian start-up WAYCAP to our marketplace! For 50 ReCoins you can get a 20% voucher on refillable steel capsules for the Nespresso and DolceGusto systems.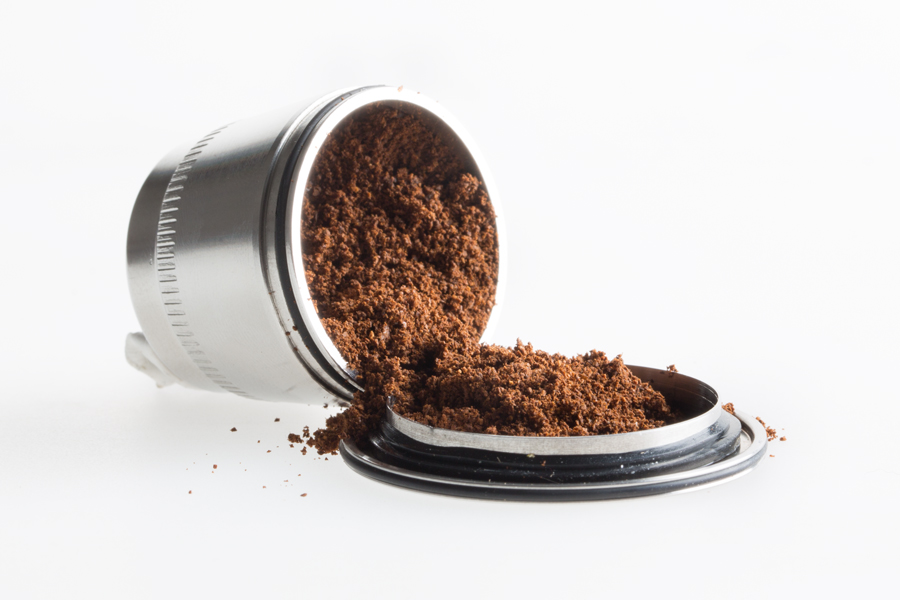 The stainless steel capsules from WAYCAP are made 100% in Italy and are designed to last, so you can use them as long as you want. This not only saves you garbage, but also money. (Using the stainless steel caps costs up to 85% less than using one-way coffee). The capsules are completely plastic-free and apart from the used coffee, which is biodegradable, no waste is produced. The capsules can be used with any type of espresso blend, which gives you a lot more choice of coffee types. The innovative design of WayCap with a unique slot system enables perfect dispensing and removal. With the help of the supplied dispenser and the manual coffee press, the container can easily be filled with its ideal pressure in 30 seconds. The combination of capsule design and precise pressure (with the coffee tamper) ensures that every espresso has the perfect balance between intensity, creaminess and taste.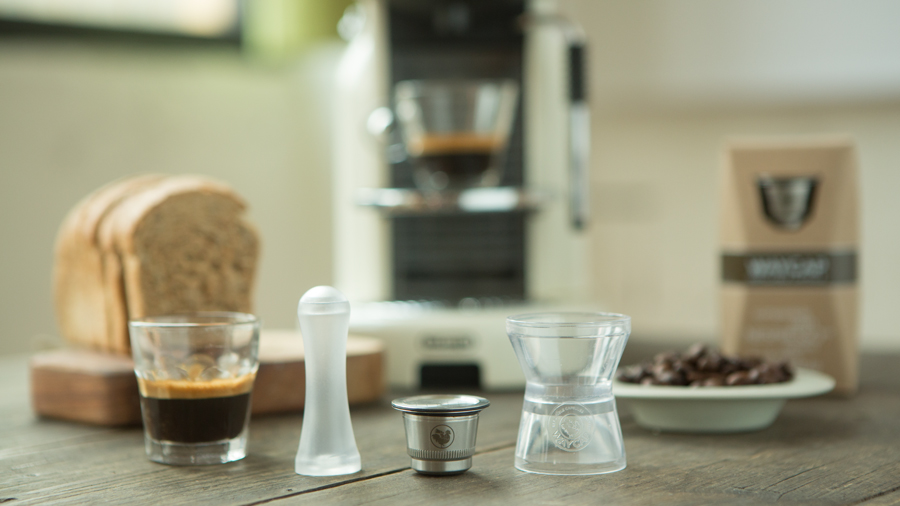 WAYCAP is a company based in Turin in north-west Italy and they decided from the start to work with regional partners and suppliers. (More than 90% of their suppliers are based in the Piedmont region, no more than an hour's drive from their headquarters.)
WAYCAP only uses reusable materials and attaches great importance to the sustainability of the products they use.
WAYCAP has set itself the task of minimizing the impact on the environment, both in terms of its corporate policy and personal decisions. They want to do their part to improve our quality of life and that of future generations. WAYCAP was born from the idea of countering the tinted and difficult-to-recycle waste from single-use capsules. So you can enjoy your coffee without waste. The use of WAYCAP capsules is a small, everyday action that anyone can do to protect our environment. Enjoy your favorite coffee and help preserve our planet.
If you want to know more about WAYCAP have a look at their social media channels: Facebook, Instagram.
9. Hey Unrefined Riches!
20% on the vegan cosmetic products from Unrefined Riches
The mission of Unrefined Riches is to give people with the most varied of skin types, colors and hair structures the opportunity to feel good in their skin and to be able to care for it effectively and without restrictions with effective ingredients.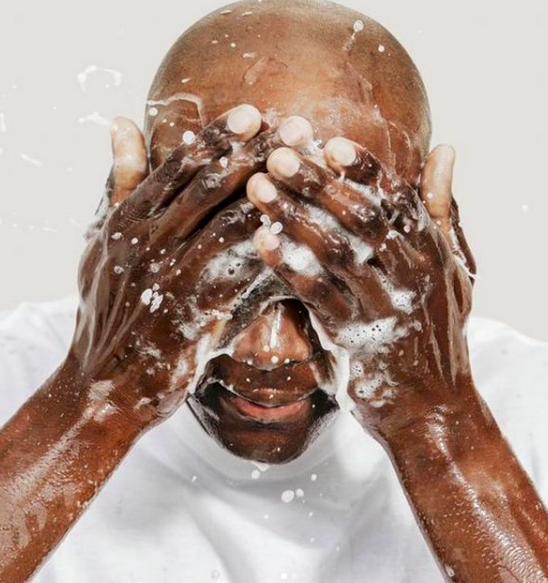 Contrary to the norm of the cosmetics and beauty industry, Unrefined Riches consciously includes the needs of dark skin types as well as curly and frizzy hair types in product development.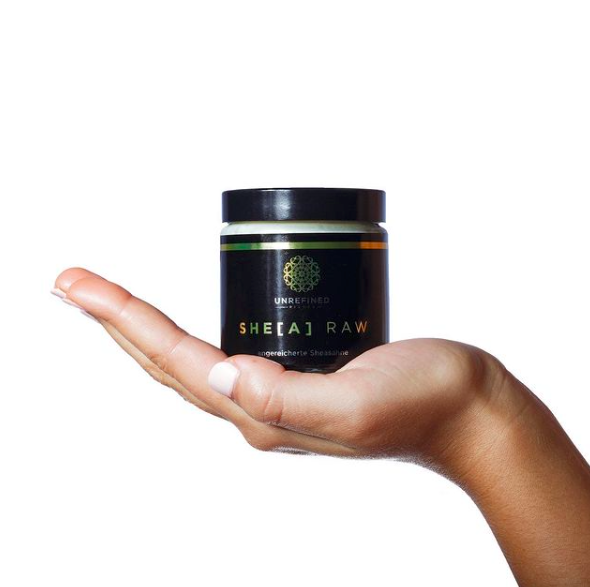 All Unrefined Riches products are 100% vegan, without animal testing and for ALL skin types. Their goal is to give everyone the opportunity to feel comfortable in their skin and to be able to take care of it effectively and without restriction with the right care products.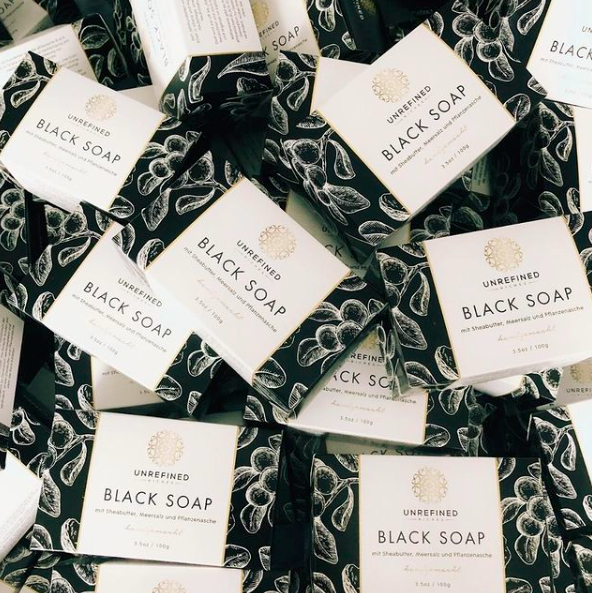 With this company philosophy and its environmentally friendly packaging, Unrefined Riches goes against the norms of the cosmetics and beauty industry. We at Changers think that's great!
Take a look at their social media channels!
---
10. Nu Company

Get your 20% voucher for vegan protein snacks from the nu company!
The green food startup the nu company from Leipzig wants to challenge the food industry and change it sustainably.Founded in 2016 by three industrial engineers, the "purpose-driven" company has taken up healthy, plastic-free and climate-positive snacks and thus shows that positive management is no longer a utopia. Driven by its corporate DNA "food for a nu world", the startup is consistently rethinking food: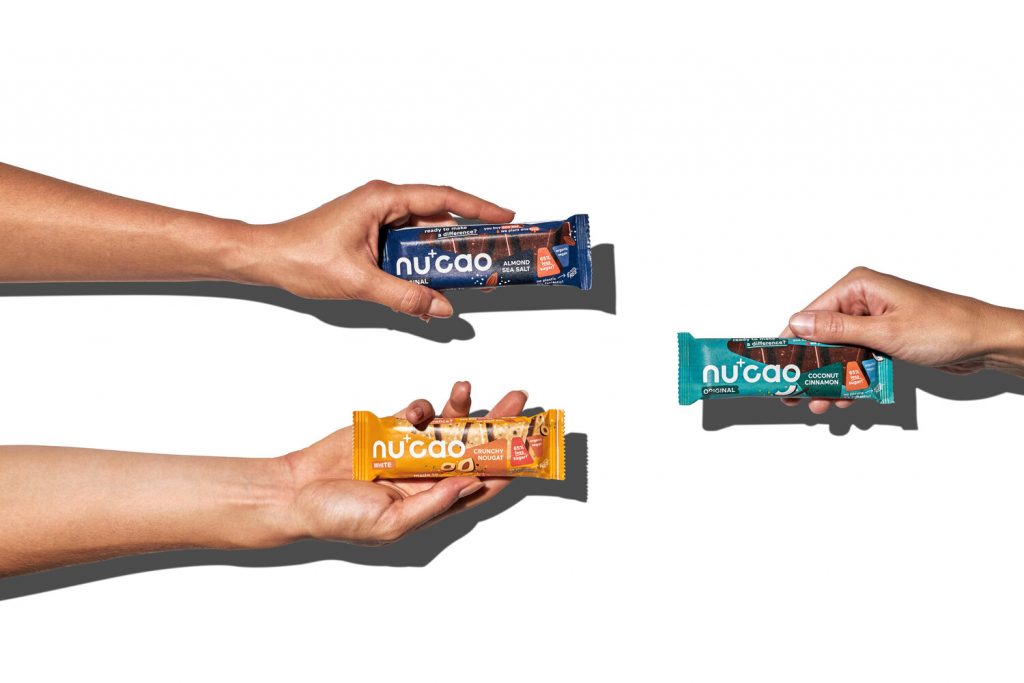 All products are of natural origin in organic quality, vegan, without refined sugar and come in specially developed home-compostable cellulose packaging. On its climate-positive mission, the nu company supports reforestation projects in collaboration with the Eden Projects organization by planting a tree for every product sold.
If you want to know more about the nu company check out their social media channels!
We hope you like our new marketplace partners as much as we do! So work hard to save CO2 and get your sustainable rewards.